Week in pictures: 8-14 October 2022
A selection of powerful news photographs taken around the world this week.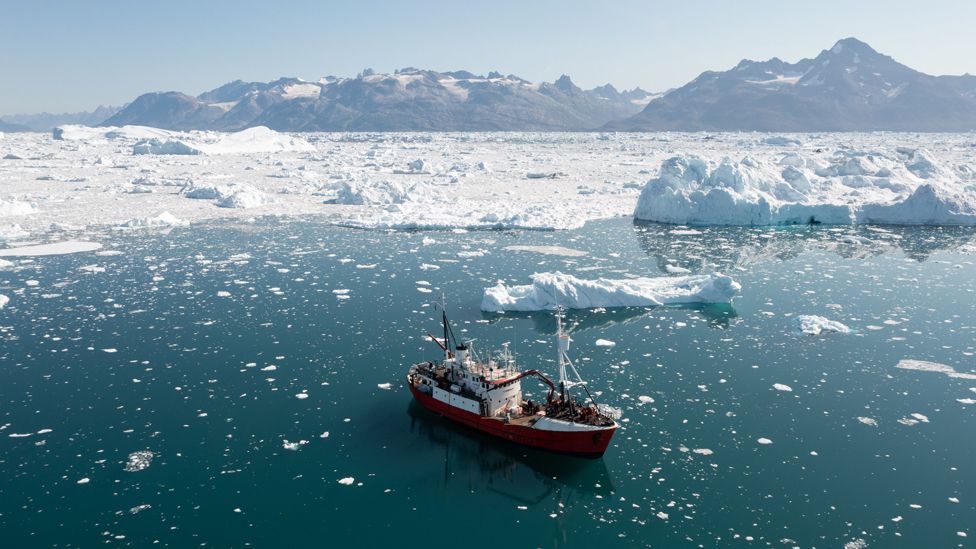 Image source, Jamie Holte/University of Edinburgh/PA
Image caption,
University of Edinburgh of researchers monitor water temperatures in Sermilik Fjord, south-east Greenland. New research suggests climate change may be having more impact on the melting Greenland ice sheet than previously thought.
Image source, Aaron Chown / PA
Image caption,
Vanessa Redgrave, the Oscar-winning actress and political activist, is made a Dame Commander of the British Empire by the Prince of Wales at Buckingham Palace in London.
Image source, Florence Lo / Reuters
Image caption,
Visitors pose for a video in front of an installation of the Chinese Communist Party flag, at the Museum of the Communist Party of China, in Beijing.
Image source, Gary Hershorn / Getty Images
Image caption,
The full Hunter's Moon rises behind the skyline of Brooklyn and the Statue of Liberty, as the sun sets in New York City, USA.
Image source, SAMEER AL-DOUMY / AFP
Image caption,
Migrants carry a boat at Gravelines, near Dunkirk, as they prepare to embark on an attempt to cross the English Channel.
Image source, LUIS TATO / AFP
Image caption,
Elephant keeper Kiapi Lakupanai plays with two calves at Reteti Elephant Sanctuary in Namunyak Wildlife Conservancy, Samburu, Kenya. The severe drought has not only put millions of people on the brink of starvation, but it is also threatening the rich biodiversity in the region.
Image source, PRESS SERVICE OF THE PRESIDENT OF KAZAKHSTAN
Image caption,
Kazakhstan's President Kassym-Jomart Tokayev and his Turkish counterpart Tayyip Erdogan (L) play table tennis in Astana, Kazakhstan.
Image source, GLEB GARANICH / REUTERS
Image caption,
Russia has been widely condemned after bombarding cities across Ukraine, including launching missile strikes on the centre of Kyiv for the first time. A man walks near his burned car after one strike.
Image source, GABY ORAA / Reuters
Image caption,
Jennifer Galindez mourns her baby granddaughter Damna Romero, who died after deadly landslides swept away homes in the Venezuelan town of Las Tejerias, south of the capital Caracas. The landslides happened after the El Pato river burst its banks, and the resulting floodwaters swept away several houses and shops.
Image source, Yawar Nazir / Getty Images
Image caption,
Kashmiri Muslim devotees look towards a cleric displaying a holy relic believed to be a whisker from the beard of the Prophet Muhammad, at Hazratbal shrine, on the Friday following Eid-e-Milad in Srinagar, Indian-administered Kashmir.
All pictures are subject to copyright.